Celebrating Britain's top 100 fastest-growing companies and the leaders behind their success.
Established to celebrate companies and leaders driving exceptional growth, Growth Index is the definitive, independent league table which shines a spotlight on the most successful sectors and companies in the UK and analyses the positive impact of purpose, leadership, creativity, and strategy behind their success.
But why?
Growth is the engine upon which the health and wealth of nations is founded. Growth unleashes benefits beyond the economic. It revitalises organisations and invigorates the people in them, creating energy, innovation, a sense of purpose, and the glow of leading from front.
Nominations for 2023 are now closed, but you can stay up to date with all things Growth Index by signing up below.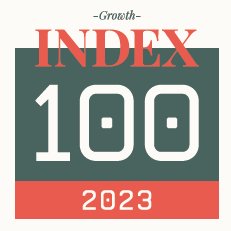 The 2023 'Growth Index' will be published in April and is a league table of the UK's companies with the fastest-growing sales. Companies are ranked by compound annual growth rate (CAGR) in sales over their latest two financial years. Read below our full entry critera.
Our criteria and research process
Companies must be registered in the UK – however, their ultimate holding company may be offshore.
Companies must have at least £5m in latest sales and minimum base year sales of £100,000.
Have three years of accounts, with sales growth measured by compound annual growth rate over the latest two financial years.
We accept quoted companies on UK and non-UK stock exchanges.

Excluded companies include: professional services (solicitors, underwriters, recruiters) firms and LLPs; property developers and companies that trade in electricity (excluding energy providers); investment and private equity funds; joint ventures; state-owned enterprises and non-profit organisations; CICs, housing associations and university-related property companies; foreign owned businesses; and genuine subsidiary's.
Companies that do not meet these criteria are considered for our 'ones to watch' list, which will feature 10 finalists that are on a purposeful mission, achieving good growth and deserve to be celebrated!
DOWNLOAD AND READ THE 2022 REPORT
We are all made better by the people we surround ourselves with. At Growth Index, we're proud to work with some of the best and brightest- not only as part of our team, but as part of a community of incredible businesses, charities, and individuals who help us to mutually thrive. Want to get involved?