How to make purpose practical
If you ask CEOs what their company's purpose is, very few will say to make money. Most will reel off their mission – the thing they aim for that, if satisfied, will produce a financial return.
Having a purpose goes much deeper. It's nothing less than the role you aspire to play in the world, above and beyond financial gain. To be truly sustainable in every sense, a purpose-driven mission must not only lead to growth and profits, but also contribute to society and protect the environment.
This can lead to a sometimes complex day-to-day balancing act. Here's a quick look at how genuinely purposeful companies get it right.
Having a purpose goes much deeper. It's nothing less than the role you aspire to play in the world, above and beyond financial gain.
If you treat purpose like an add-on, that's all it will be. By making it a business priority in the same way as profit or growth, you'll have far more impact.
Set ambitious, constantly rising targets. Measure progress against those targets. Hold yourself accountable for it. This is why B Corp certification – achieved by five out of our 100 GX companies – involves publishing independently verified impact assessments that detail and appraise the steps you are taking to be a force for good, benefitting people and planet.
By applying the lens of purpose across everything you do, at board level, and looking at your impact on governance, workers, community, environment and customers, you can see areas for improvement that you may not have realised were there.
As B Lab Founding Steward Jared Myers told a roundtable last year, "B Corps aren't companies that just do a few good things here and there. It's holistic. And holistic means it needs to be bought into at every level of the organisation."
DON'T TRY TO DO IT ALL YOURSELF
If solving systemic social and environmental problems were easy, they wouldn't still be problems. To achieve meaningful impact, start with your strengths and form deep partnerships to cover your weaknesses. As former Unilever CEO Paul Polman and sustainability adviser Andrew Winston argued in the Harvard Business Review, this can involve the uncomfortable act of working with your critics: "NGOs can make life difficult; for example, Greenpeace is known for climbing corporate buildings to protest environmental wrongdoing.
But pressure groups closely follow technical issues, such as alternatives to plastics, and often have deep knowledge. It's important to distinguish between productive critics and cynics who just want to undermine business… helpful sceptics bring good ideas to the table, serve as an early warning system for new problems, and can make your business better — if you don't get defensive."
ACCEPT THAT THERE WILL BE TRADE-OFFS
In an ideal world, there will be a solution to every dilemma a business faces that would allow it to maximise growth, profit, and impact. In the real world, these goals will sometimes pull in different directions, as Ryan Gellert, CEO of Patagonia – one of the most famously purposeful companies and a Certified B Corp – recently acknowledged.
"I want us… taking responsibility for products and ultimately [creating] as closed of a loop as possible for the materials that we use," he told The Guardian. "In doing that, there is a point where we're probably starting to cannibalise new product sales with second-hand [sales], and that's a problem I embrace."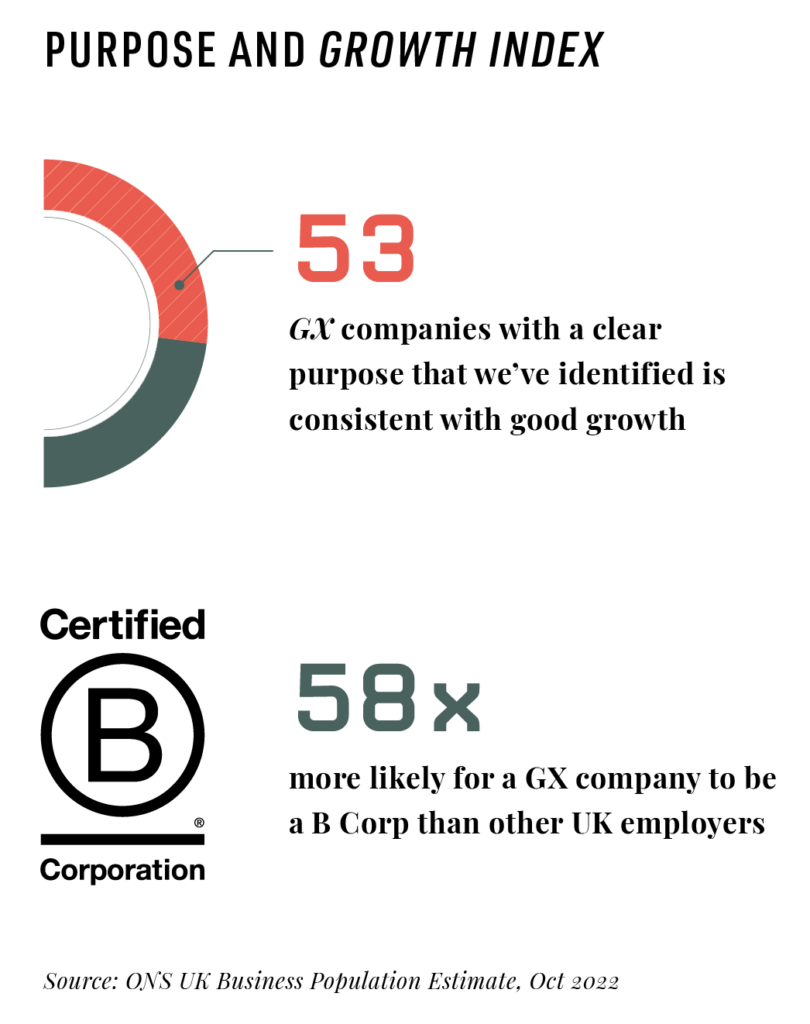 What this means isn't resigning yourself to falling short on impact or financials, but rather embracing the challenge to use your imagination. Instead of ditching the clothes industry because it uses carbon and water, Patagonia is constantly looking for different ways to be a clothing company that is both profitable and sustainable for all concerned – doing well and doing good.
It may take a long time, but it is the disposition towards constant improvement, partnership and imagining a radically different future that gets purposeful companies ever closer, ever faster. Fortunately, these are qualities that high growth leaders also have in spades, which may explain the preponderance of socially responsible companies in Growth Index.
Works with local authorities, utilities companies, social housing providers, charities and social enterprises to address fuel poverty and energy efficiency for vulnerable households, while preparing the UK for net zero. Last year it saved 45,000 households £168m in lifetime energy bills, reducing carbon emissions by 500,000 tonnes.
A pioneering recipe box company looking to change the way people eat and shop for the better. A weekly box delivery has a 23% lower carbon footprint than buying the same items in a grocery store due to reduced food waste. Gousto is a Real Living Wage employer and has given every full-time employee the opportunity to become a shareholder.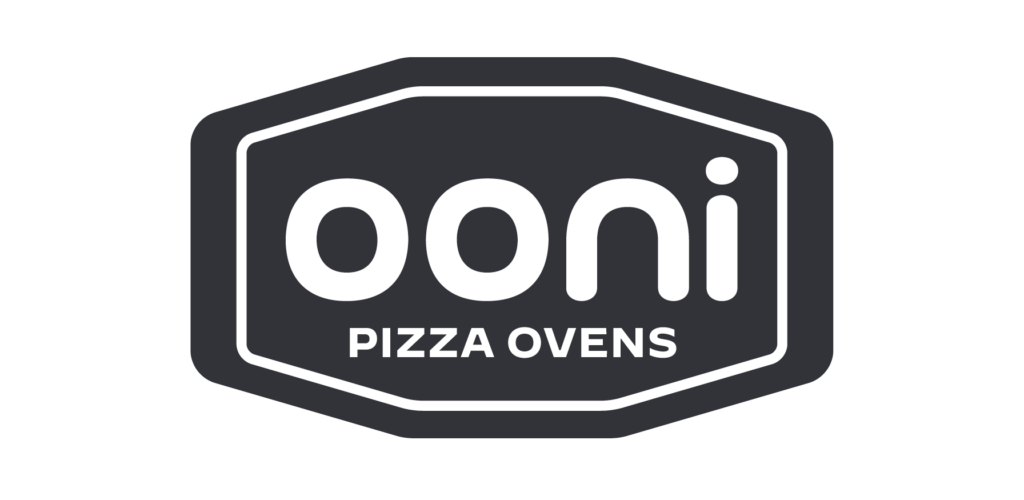 Kristian Tapaninaho & Darina Garland
A business with a passion for pizza and the planet. Its portable pizza ovens now come in 97.6% recyclable packaging. The company has planted nearly 4.4 million trees and donates 1% of profits to environmental, social and humanitarian causes.
A marketplace for independent fashion. It vets, coaches and partners with sustainable and ethical suppliers producing small, 'slow fashion' batches, for example using recycled, plant-based and carbon neutral sources. It is committed to net zero by 2030.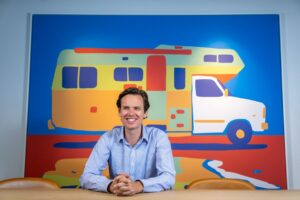 If a business is only about making money, it will quickly unravel
In 2020 Lovat Parks became the first holiday park operator in the world to be certified as a B Corp. Founder and CEO Raoul Fraser shares why and what happened next.
"Our approach is to find sites in beautiful locations, which have character to them and where people can be close to nature – and where we feel we can invest and improve the offering. We bought our first park in 2018, and now have eight across the UK.
"When I set up the business, I knew I wanted to do the right thing. It's customers first, team second and profit third. We're not doing this as something to sell, we're after sustainable growth.
"I heard about B Corps from a friend in the US and thought it was a great source of ideas and standards. It took about 18 months to get the certification, but it only really started to assimilate through our culture when we promoted our regional head in Cornwall to be our full-time positive impact manager. They report every week on what we're doing, so everyone in the business can see. We also have one B Corp
champion embedded in each park. 
"Certifying has been a massive help. If a business is only about making money, it will quickly unravel because people will take shortcuts and the growth won't be sustainable. People have to come to work feeling that they've made a difference.
"It makes financial sense too. We're in a very competitive market and you have to differentiate yourselves. The whole assessment is public, so anyone can see how we're doing. When customers are choosing a holiday, hopefully this helps us.
"I won't say the B Corp movement is perfect, but are they moving in the right direction? Of course. Do I think there's anything better out there? If there is,
I haven't come across it. 
"We're totally committed to this. If you look at some of the other Certified B Corps, they're just amazing businesses. If we can be one tenth of what they are, we've done something right."
LOVAT PARKS AS A FORCE FOR GOOD
Stocks products from 31 local and B Corp suppliers
Relationships with 30 charities to support wildlife conservation & local communities
Pays National Living Wage
Removed single-use plastic water bottles from sale & introduced free water refills
Introduced wormeries to compost coffee grinds & vegetable cuttings
Opens facilities to locals during off-season
Free-to-borrow beach toys & body boards
Social & environmental goals formally incorporated into performance reviews,
manager job descriptions, and 1-2-1 goal setting
Certified B Corps are companies that have made a public commitment to being a force for good. It involves the business writing legal commitments to social and environmental impact into its articles of association, meeting verified external impact standards and making publicly available its performance against those standards.
A US non-profit called B Lab conducts a rigorous assessment of the company's impact, engaging teams and reviewing information about operations, processes, business model and structure. As a holistic assessment, it looks at five categories: workers, local communities, environment, governance and customers. To keep companies improving, B Lab requires them to recertify every three years.
Yes. Since the movement started in 2006, it has grown to include 6,512 Certified B Corps globally at time of publishing, including over 1,200 in the UK.