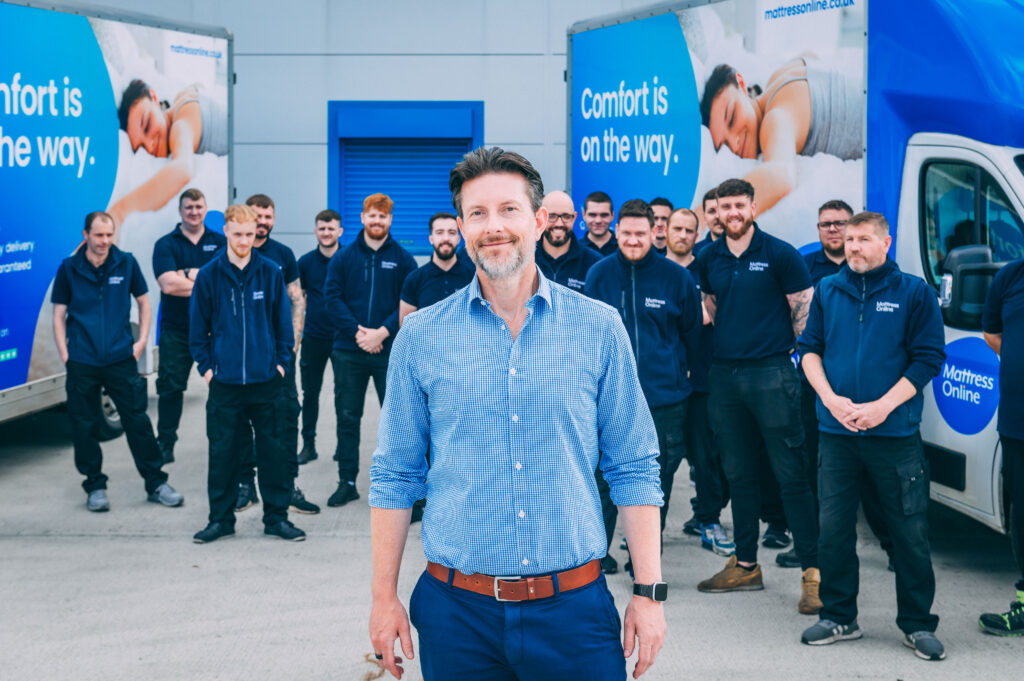 How next-day delivery ensured success for customer-focused Mattress Online
Mattress Online started in December 2003, appropriately from co-founder Steve Adams' bedroom. Starting with just five products, it took two weeks for the company to sell its first mattress, and another two weeks to make another. Sales fortunately picked up in January – the peak month for furniture and homeware shopping – and the company has never looked back.
"We've been a stockholder from day one and that's been the key to our success. We have around 21,000 mattresses sitting in warehouses ready for next-day delivery," says Adams, whose background was in e-commerce before he began selling beds and mattresses.
Originally, the business imported mattresses from overseas with no brand names attached. A turning point came when Silentnight, the biggest bed brand in the UK, was brought onto the website and sales grew. That started a long-term relationship with other big brands including Emma, Simba and Tempur.
Mattress Online's strategy has always been customer-focused, getting goods to customers as soon as possible and allowing people to specify a delivery date that suits them.
"It was a very different time nearly 20 years ago. There were very few people doing what I did. The other bed shop owners were traditional, quite staid, and none were offering next day delivery like me," says Adams.
Around 70% of orders are delivered to customers the next day, with many of the remaining  30% choosing a later delivery date to suit their working patterns or other logistical issues. Customers are given a two-hour delivery window that they are told by email and text the night before. They will get a phone call when the driver is half an hour away and customers can track the driver through an app.
"Having that transparency speaks volumes. Customers want to know if the driver is stuck in traffic and to see how their delivery is progressing," adds Adams.
Being based in South Yorkshire has helped with transport and delivery as it's easy to travel north or south. Property is also affordable in the local area, meaning Mattress Online can maintain a 135,000 square foot warehouse that would not be affordable in the south.
Adams describes Mattress Online, a new entrant on the Growth Index this year, as a tech company at heart that happens to be selling mattresses. The company manages its website, stock control and dispatch systems in-house.
Mattresses are still the core part of the business, although the company has also expanded into beds and sofa beds. Turnover has doubled in the past five years to £29m in 2022, with pre-tax profit coming in at £2.2m.
Growth has been organically funded from profit, rather than taking external investment, and the company is in the enviable position of having no debt.
"We're not saying never to external funding. But we make a profit on everything we sell and we make money every year, so we have been able to grow organically. I know we could double our turnover overnight if we just went for volume and market share, but we'd likely lose money because pay-per-click is very expensive now," says Adams.
The company employs 75 people and is currently recruiting for six more. Adams says one of its biggest obstacles in growing is that it's hard to hire talent. "It's a very difficult job market at the moment. We particularly find it challenging to find sales consultants."
Although Mattress Online is very much an online retailer, the plan is to open 20 physical stores within the next three years. The company already has three up and running in the north of England and is negotiating on another three. The aim is to raise brand awareness and to allow customers to test mattresses before buying.
"I'm a firm believer that some customers do want to go into a store and want the reassurance of a store. We're currently around 1.2% of the mattress market, so we are still a tiny proportion of our sector. Having physical stores will help us with our brand awareness and take our growth to the next level," says Adams.