We're saying the countryside is cool. We're pioneering rural Vogue
Appropriately enough for a brand that began with leather footwear, Fairfax & Favor was thoroughly bootstrapped. Founders Marcus Fairfax Fountaine and Felix Favor Parker funded the Norfolk-based business through its early days by working summer jobs in the local pub and delivering fireplaces. They kept their stock in Parker's mum's attic.
Behind these humble beginnings was an ambitious vision. "You often find London brands dictating what you should be wearing. We're saying the countryside is cool. We're pioneering rural vogue," explains Parker. 
Although F&F is primarily a D2C ecommerce brand, its sales strategy is rooted in direct contact with customers at country fairs, shows and horse trials and, since 2019, its own shops in picturesque market towns like Holt, Stamford and Helmsley.
"We have private appointments, and people travel down from Manchester or up from Brighton and base their weekend around them. We recommend where to stay and what to do in the area. If it's your birthday you get a balloon and champagne. You can't do that online," Parker says.
Customer contact has not only helped to build brand loyalty, but also fed into product development, leading for example to innovative new calf fits and elastication for their flagship boot, the Regina.
A decade old, F&F has expanded into outerwear, bags and accessories, to become a fully-fledged luxury brand. Turnover reached £28.9m in their latest accounts, and is due to hit £35m this year.
Throughout it all, it has remained profitable,and is still controlled by its founding pair. "That means you can be spontaneous. When everything has to go through a committee it just kills enthusiasm and ideas. We try to have a culture of fun," Parker says, pointing (figuratively) to the company's racehorse, Mayheblucky, which is part-owned by its customer racing club.
While fun and dynamism have helped innovation and talent retention, it hasn't all been smooth riding. In late 2018 their main manufacturer in Spain went bust, leaving them without a supplier for the Regina just before Christmas. "We learned a lesson there: don't put too many eggs in one basket. We were working with about five factories then, now there are about 30," Parker says.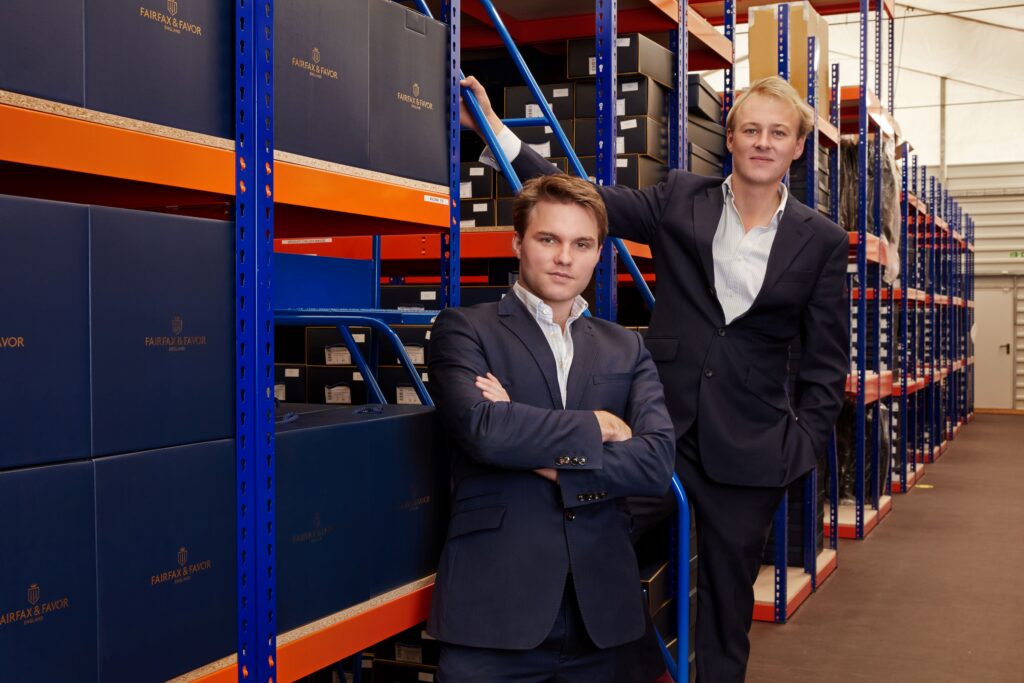 With the supply chain secure – and a new 60,000 sq ft warehouse in Norfolk – F&F is primed for growth. "We always set out to be a £100m company – that's valuation, but we can also get to that in revenue,"
Parker says. Sales in the US – where there are nine million horses and a thriving equestrian community – are currently 4-5%, but Parker and Fountaine are targeting 15% over the next few years.
"We want to go to those small horse trials, build the network and replicate what we've done here, without losing focus on the UK… we know the market is there and we've proved we can do this."